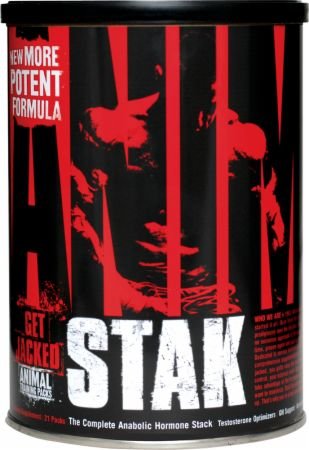 Universal Nutrition Animal Stak Reviews 2019
Last Updated on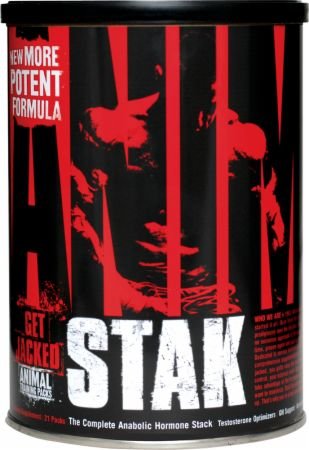 The new and improved Animal Stak is an advanced formulation of its predecessor, which launched nine years ago. Compared with old one, the new one is added with extra nutrients. Animal Stak is a combination of testosterone booster, GH booster and anti-aromatase. Here we are going to dissect the animal for you to find out how it is beneficial for you and not.
KEY INGREDIENTS
Tribulus Extract Complex: Tribulus helps to boosts testosterone level, increase muscle mass and strength. Experiments held by the researchers in Lithuania shows that when athletes experimented with providing tribulus for 20 days has increased circulation of testosterone significantly during first 10 days of the experiment.
Longjack Extract Complex: Longjack is a traditional aphrodisiac and libido booster. It enhances the production of endogenous testosterone and also reduces bound and inactive testosterone levels. It improves sex drive, joint health and increases recovery from intense workout sessions.
Avena Sativa Extract: This is an oats extract which provides testosterone boosting effects. A saponin based supplement. It releases bound testosterone, increases free testosterone, which helps to support building muscle.
Mucuna Pruriens Extract: it enhances the production of growth hormone and testosterone. Studies shows that with a single oral dose of 500mg of L-dopa, have increased the release of growth hormone after 60-110 mins.
Alpha Glycerylphosphorylcholine(GPC): Alpha GPC boosts growth hormone and fat burning. Studies showed that choline released growth hormone into the blood, 1 hour after its intake.
Arginine Alpha-Ketoglutarate (AKG): AAKG boosts NO production which dilates blood vessels and helps to supply more blood and oxygen flow to muscles. Thus provide more endurance and recovery.
Arginine HCI: It also helps in the dilation of blood vessels with the help of NO production. Promote blood and oxygen flow and enhances fast recovery.
Calcium D-Glucarate: Calcium D-Glucarate lowers estrogen levels. Calcium D-Glucarate binds with estrogen and stops it from being absorbed by the intestine.
Diindolylmethane (DIM): DIM is obtained from cruciferous vegetables like broccoli, cauliflower, kale, etc. helps the liver in estrogen metabolism and neutralizes potent estrogen derivate.
Beta Sitosterol: 5-alpha-reductase type II is an enzyme which is responsible for the conversion testosterone into Dihydrotestosterone(DTH), which causes hair loss and baldness. Beta Sitosterol inhibits the enzyme from the conversion.
Saw Palmetto Extract: Saw palmetto is a plant with small berries. It has been used to treat hair loss. It also blocks the enzyme that converts testosterone to DHT.
Quercetin: It also inhibits DHT and reduces hair loss.
Acetyl-L-Carnitine: High cortisol levels can cause protein breakdown and blocks protein synthesis. So it must be maintained. Researches show that long term use of Acetyl L carnitine reduced cortisol levels and elevated testosterone.
Phosphatidylserine: It is an effective supplement. Since it can reduce cortisol levels, it is effective for opposing exercise-induced stress.
Milk Thistle: this is an herbal supplement which is used over 2000 years for detoxifying and treating vital liver disorders.
Stak also have Vitamin B6, Magnesium, Zinc, Vitamin C, and Chromium. So it is a complete package rather than just being a testosterone booster. So this is a best choice for your arsenal!
[box type="custom" bg="#e0d572″ radius="10″]As you know Testosterone boosters available in market contain natural testosterone boosting ingredients. But how can you identify the ones which deliver results? Don't worry; we have created a free report on Testosterone Boosting Ingredients.
Download our free report on top five Testosterone Boosting Ingredients here.[/box]
Pros of Animal Stak[quote bcolor="#2db2eb"]
Boosts testosterone levels
Elevates growth hormone levels
Inhibits DHT
Helps fat burning
Fastens recovery
Enhances vasodilation
Anti-aromatase
Lowers cortisol levels
Liver protection
Reduces stress
Increases muscle strength and density.
Low priced
[/quote]
Cons of Animal Stak[quote bcolor="#2db2eb"]
Mood swings
High serving size
Acne problems
Cases of Gynecomastia, Prostate enlargement in some
[/quote]
OVERALL
Animal Stak is not just a testosterone booster. It's like big things came in small package. You don't have to find separate supplementation for testosterone and GH boosts if you have this one. It is worthy to buy this, saves a lot of money which is a great deal.
It has Growth hormone secretagogues, natural test complex, DHT blockers, vasodilator complex, aromatase inhibitors, cortisol inhibitor complex, and liver detoxifiers. What more do you need from a single supplement!
You can find many positive results from this supp. Show visible results in just first week use. Increased muscle strength, muscle recovery and size, positive fat loss results. It's pricing is in an affordable range.
So if you want to save your money this is the right product, which can give desired results.
[button color="blue" link="https://www.manlyhacks.com/recommended/animalstak/" size="bigger" align="center" target="_blank" radius="5″ outer_border="true" outer_border_color="#ededaf"]Get Animal Stak[/button]
[Total: 11 Average: 4.1/5]